The Technology Leader in Depth Filter Sheets and Modules
More than 100 years ago, SeitzSchenk developed the first effective microfilter. Since then, we have continued to lead the way with new advancements in depth filter technology. SeitzSchenk is synonymous with technological innovation and high quality, dependable depth filtration products. SeitzShenk brings this expertise to the broad product offering available through Pall Corporation.
Supradisc™ Depth Filter Modules
SUPRAdisc stacked disc modules incorporate all the advantages of SeitzSchenk depth filters with the benefits of enclosed filters.
The combination of these features offers SeitzSchenk customers the ability to achieve better filtration more efficiently than ever before.
This stacked filter system functions similarly to prefilter cartridges, with very high contaminant holding capacities and excellent retention capabilities. In many applications, the SeitzSchenk SUPRAdisc system performs better than pleated pre- filter cartridges.
SeitzSchenk SUPRAdisc modules offer unique design and construction, providing exceptional mechanical stability not found in other stacked filter modules.
Supradisc™ Depth Filter Modules
Benefits of Depth Filter Sheets in Module Form
The Supradisc module design concept combines the advantages of conventional depth filter sheets with the positive features of enclosed filters.
Stacked disc modules have a long history in Food and Beverage applications. The classical stacked disc modules design represents the earliest module design with performance disadvantages. Pall has developed a new module that eliminates existing disadvantages of the classical stacked disc modules.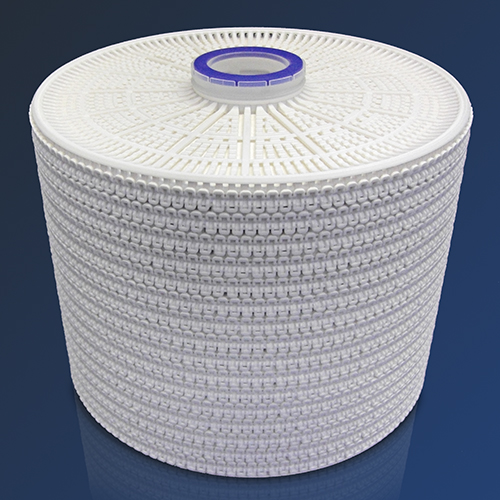 Next Generation Rigid Interlocked Depth Filter Module
Supradisc II depth filter modules have a design that eliminates direct operator handling of the discs to prevent damage and to ensure uniform performance. As part of this unique design, the Supradisc II modules have a clip-seal interlock that holds the filter sheet in place with an outside and inside separator. In addition, the filter sheet is fastened during manufacture to both the polypropylene core and the outer casing to provide maximum stability without the need for welds or resins. This ensures that the system will not fail under changing pressures.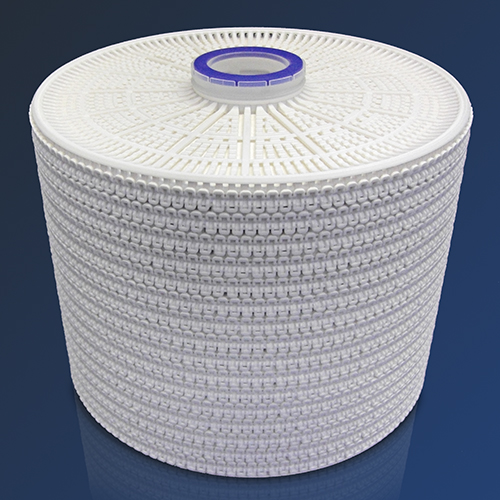 Pall® SuprapakTM Depth Filter Modules
Depth filtration goes edge flow